Department:
Sanitation
Reports to:
Corporate Director of Sanitation
Location:
San Juan Bautista, CA and Yuma, AZ
Relocation:
This position is required to relocate to Yuma, AZ for 5 months every year (Mid-November through Mid-April). The remainder of the year, this position will be based out of San Juan Bautista, CA.
Pay:
From $70,000 per year
General Purpose of The Job:

The
Sanitation Supervisor must possess educational background and technical aptitude as it relates to food plant sanitation programs, chemical handling and Food Safety programs. A general knowledge of food and environmental microbiological testing as well as preventative measures.
Key Responsibilities:
Helps develop and implement strategic sanitation program, policies, plans and processes to ensure that sanitary performance meets True Leaf standards as well as supports Food Safety requirement towards regulatory compliance

Manages annual sanitation plan, budget forecast and performance

Manage sanitation Chemical supply and inventory

Ensure that the plant is cleaned daily and ready to start production on time

Maintain a safe work environment by properly implementing the IIPP (Injury Illness Prevention Programs) – Always raise safety awareness for chemical handling and equipment operation with Tag out Lock out training
Ensure that the company food safety guidelines are implemented daily

Maintain good communication with subordinates, peers and other members of management

Train and set safety goals for sanitation crew

Participate in audits, facility inspections and coordinate pre-operational inspection with QC Management

Clearly communicate expectation to sanitation employees perform other tasks assigned by management
Education and/or Experience:
Two-year college degree in agriculture or science related field, or two years' experience in vegetable planting, harvesting and/or processing

Must have the knowledge and skills required to work in a fast paced and challenging environment both inside and around the facility as well as receiving and cooling yard

Excellent writing, verbal and communication skills

Bilingual (English and Spanish) reading, speaking and writing required

Must be able to work day and/or afternoon shifts as required by the job



Knowledge of the GMP, HACCP and Environmental sanitation program is preferred

Experience with third party regulatory agencies such as AIB, Silliker, Primus GFS, SQF California Department of Food and Agriculture, FDA, Davis Fresh, SAI Global Audit scheme preferred

Must be able to relocate to our different processing areas

Candidate must be highly organized and detail oriented

Candidate must be team oriented and able to work independently

Candidate must be able to handle several projects in a fast-paced environment
Communication Skills:
Excellent communicator, both verbal and written

Efficiently present information in one-on-one and small group situations to other employees, clients and customers of the organization.

Write reports, business correspondence, and procedure manuals. Effectively present information and respond to questions from groups of managers, clients, customers, and the general public.
The above statements are intended to describe the general nature and level of work being performed by employees in this position. This is not intended to be a specific list of all responsibilities.
Work Environment:
The work environment characteristics described here are representative of those an employee encounters while performing the essential functions of this job. Reasonable accommodations may be made to enable individuals with disabilities to perform the essential functions.

Working around people, heavy equipment, moving forklifts.

Wet floor surfaces are caused by water bearing equipment. Heavy production equipment machinery and forklift engines create out of the ordinary noise.

The noise level in the work environment is usually moderate.
Analysis of Physical Demands

key

(Based on typical week);


N=Never
R=Rarely (Less than 1 hour per week)
O=Occasional

=(1%-33% of time)


F=Frequent (34%-66% of time)
C=Constant (over 66% of time)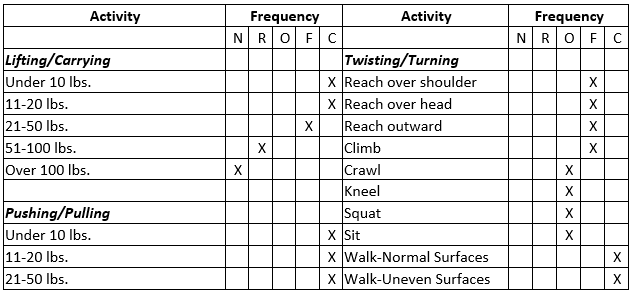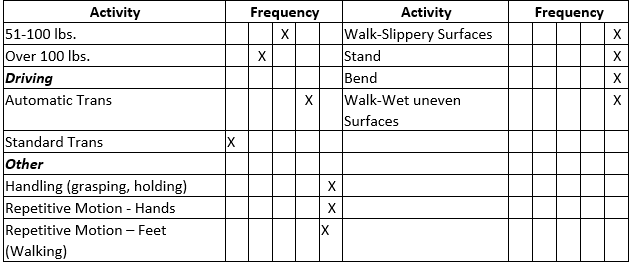 Specific vision abilities required by this job include close vision, color vision, peripheral vision, depth perception and ability to adjust focus.