Posted on September 12, 2023
Department:
Shipping
Reports to: Shipping Manager
Hourly Rate: $17.00
Location: San Juan Bautista, CA and Yuma, AZ
SUMMARY:
The Dispatch Clerk position is responsible to assist the Dispatcher position with auditing and review all documentations necessary. Position is also responsible providing clerical support including but not limited to typing, scanning, filing and keeping records up to date.
KEY RESPONSIBILITIES:
Enter correct information in Famous at the check-in level as well as any other comments and notes needed

Reconcile orders as assigned

Review and track order accuracy as assigned

Provide clerical support including but not limited to typing/word processing, coping and record

Audit and verify that all documents are accurate and clear of discrepancies.

Make sure that they issue truck drivers check-in sheets and that all information is filled out clearly
Assure that all manifests are reconciled , scanned, copied or faxed on a daily basis

Must make sure that all / any special instructions or procedures are followed through

Communicate any issues to management/dispatch if and when they arise

Ability to multi-task

Perform other related duties as assigned



EDUCATION / EXPERIENCE:
High School diploma required. Minimum on 1 year of general office experience required, dispatch experienced preferred but not required

General knowledge of Microsoft Excel and good working knowledge of other Microsoft Office software

Famous software knowledge a plus
QUALIFICATIONS:
Team player who will exceed assigned responsibilities and assist others to reach objectives

Strong oral and written communication skills to deliver technical information in an easily understood manner across all departments

Must relocate to Yuma, AZ during November – April and to SJB during April – November



OTHER SKILLS AND ABILITIES:
Bilingual (English/Spanish) a plus
OTHER QUALIFICATIONS:
Other Qualifications

Able to travel/relocate as required

Bilingual (English/Spanish) a plus
WORK ENVIROMENT:
While performing the duties of this Job, the employee is exposed to a cold (34-36 degrees F) and wet manufacturing environment, the smell of chlorine, outside weather conditions, uneven forklift traffic and loud noise, walking surfaces, heavy machinery.
Analysis of Physical Demands:
Key (Based on typical week):
N=Never
R=Rarely (Less than I hour per week)
O=Occasional (I%-33% of time)
F=Frequent (34%-66% of time)
C=Constant (over 66% of time)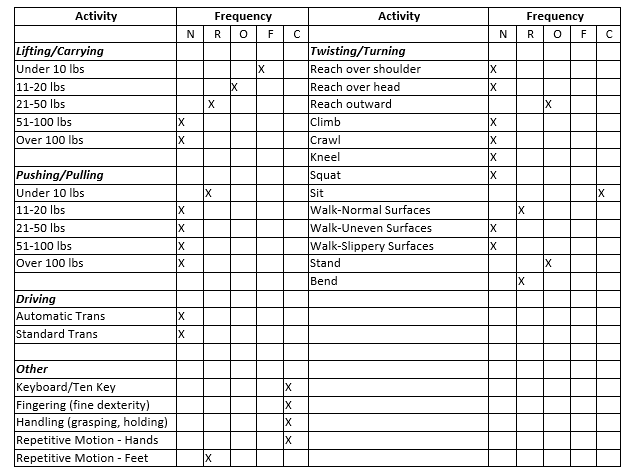 APPLICANTS
Please send your resume to resumes@churchbrothers.com
Church Brothers Farms is an equal opportunity employer. All applicants will be considered for employment without attention to race, color, religion, sex, sexual orientation, gender identity, national origin, veteran, or disability status.
Please send your resume to resumes@churchbrothers.com