Posted on August 15, 2023
Department:
Sanitation Lead
Reports to:
Sanitation Manager
Location:
San Juan Bautista, CA and Yuma, AZ
Pay:
$19.25
GENERAL PURPOSE OF THE JOB:
Personnel in this position is responsible for daily plant cleanliness and sanitation, which includes food contact surfaces and equipment, is used for food manufacturing. He/She should be well trained in chemical handling, safety and their concentrations. Directs sanitation employees under the guidance of sanitation supervisor and undertakes the responsibilites of sanitation supervisor in his/her absence.
ESSENTIAL DUTIES & RESPONSIBILITIES:
Responsible for daily plant sanitation

Responsible for safe handling of chemicals, and their optimum concentrations- Hand and Foot dip stations

Implementation of GMP's and maintaining chemical records which includes daily, weekly, monthly sanitation records and chemical usage logs
Informs Sanitation supervisor for ordering chemicals and sanitation supplies

Duties vary as needed- for tote washing, forklift driving, and packing sanitation equipment's during the seasonal move to and from Arizona.

Directs sanitation employees and acts as
EDUCATION AND/OR EXPERIENCE:
Minimum Education (or substitute experience) required: 2-3 years' experience in related field

Minimum Experience required: 1 year
QUALIFICATIONS:
Well trained in chemical safety and equipment sanitation

Must be able to operate a forklift
Analysis of Physical Demands
Key (Based on typical week):
N=Never
R=Rarely (Less than 1 hour per week)
O=Occasional (1%-33% of time)
F=Frequent (34%-66% of time)
C=Constant (over 66% of time)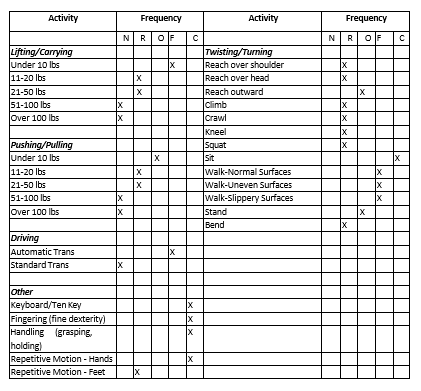 Church Brothers Farms is an equal opportunity employer. All applicants will be considered for employment without attention to race, color, religion, sex, sexual orientation, gender identity, national origin, veteran, or disability status.