Posted on August 16, 2023
Location:
San Juan Bautista, CA and Yuma, AZ
GENERAL PURPOSE OF THE JOB:
The 12-Pallet Operator is responsible for the offloading of incoming raw product and introducing the load into the Hydro Vac tube.
ESSENTIAL DUTIES & RESPONSIBILITIES:
Must be able to identify different commodities grown & packed by the company & our outside purchases

Unload trucks off a portable ramp

Safely transport pallets to scale for weights
Fill out daily inspections reports on forklifts

Make sure all pallets are properly tagged before taking to tube
EDUCATION AND/OR EXPERIENCE:
Minimum Education (or substitute experience) required: High School Diploma

Minimum Experience required: Two years' experience operating a 12-pallet forklift

Must be able to operate a Forklift and use Pallet scales



PHYSICAL DEMANDS:
Work around people, moving machinery, cold atmosphere due to refrigeration units, wet surfaces due to water on floor and noise due to all moving traffic by lifts.
Analysis of Physical Demands
Key (Based on typical week):
N=Never
R=Rarely (Less than 1 hour per week)
O=Occasional (1%-33% of time)
F=Frequent (34%-66% of time)
C=Constant (over 66% of time)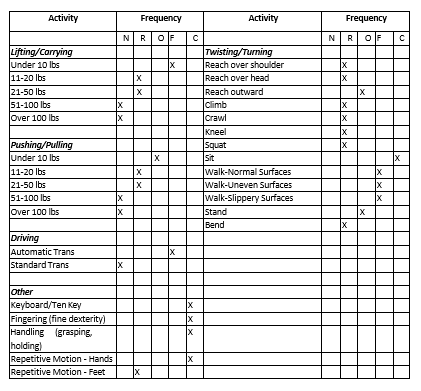 Church Brothers Farms is an equal opportunity employer. All applicants will be considered for employment without attention to race, color, religion, sex, sexual orientation, gender identity, national origin, veteran, or disability status.