Quality Assurance Technician (Night)
Posted on September 19, 2023
Department:
Quality Assurance
Reports to:
Quality Assurance Director
Location:
San Juan Bautista, CA & Yuma, AZ
Starting Rate:
$17.25
SUMMARY:
Responsible for daily QA related plant operations including inspecting fresh produce fields and in­ plant QA testing methods, chemical handling, food safety, GMP's, HACCP.
KEY RESPONSIBILITIES:
Responsible for daily sample request; pulling samples, packing, shipping and communicating to sales.

Assist & support product development projects and technical support.

Responsible for Data entry, spreadsheet and analysis.

Daily plant pre operational sanitation checks.
Responsible for calibration of thermometers, scales, pH, and colorimeters.

Hourly checks for HACCP records, room temperature records and foreign material logs.

Responsible for raw and final product evaluations as required.
EDUCATION/EXPERIENCE:
High School or Post Harvest related field or minimum of 2 years' experience in the agriculture
QUALIFICATIONS:
Seasonal Travel/Relocation between operating Facilities (preferred).

Bilingual (English/Spanish) a plus

ERP such as Famous software knowledge a plus
OTHER SKILLS AND ABILITIES:
Team player who will exceed assigned responsibilities and assist others to reach objectives

Native intellectual curiosity and mental stamina

Strong oral and written communication skills to deliver technical information in an easily understood manner across all departments
WORK ENVIRONMENT:
While performing the duties of this Job, the employee is exposed to a cold (34-36 degrees F) and wet manufacturing environment, the smell of chlorine, outside weather conditions, uneven walking surfaces, heavy machinery, forklift traffic and loud noise.
ANALYSIS OF THE PHYSICAL DEMANDS:
Key (based on typical week):
N = Never
R = Rarely (led than 1 hour per week)
O = Occasional (1% - 33% of time)
F = Frequent (34% - 66% of time)
C = Constant (over 66% of time)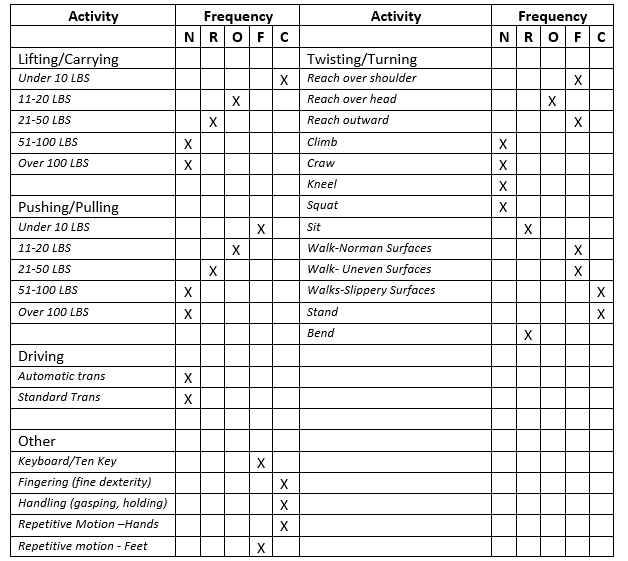 Applicants
Please send your resume to: resumes@churchbrothers.com